2023 Corolla Review

The Toyota Corolla is the poster boy of the compact sedan class and has been for decades now. This is no surprise since it is the world's best-selling vehicle of all time. It has always been known to provide a lot of value for its affordable price tag. The new Toyota Corolla 2023 is also available now, but how does it hold up at a time when the competition is the toughest? To find out, below is the 2023 Corolla review:
Features
The Corolla 2023 is going strong in its 12th generation. It comes in 8 different trim levels, and you are offered 2 engine options, one of them being a hybrid. There are some changes to the trims this year along with changes to the exterior. The Corolla is available in sedan and hatchback versions.
Engine and Numbers
The new Toyota Corolla 2023 is available with very efficient engine options. There is a 2-liter 4-cylinder engine that makes 169 hp and 151 lb-ft. You can also get the hybrid powertrain which is a 1.8-liter engine that makes around 121 hp and 105 lb-ft. Check out the 2023 Corolla Hybrid here.
Both of these engines are mated to CVT gearboxes. However, you can also get a 6-speed stick-shift manual on some trims. Equipped with front-wheel drive, you can expect the Corolla 2023 to give you a 0-60 mph time of around 7 seconds, which is quite respectable for the compact sedan category.
But the real highlight is the fuel economy that you get. You can count on the gasoline model to give up to 32 mpg in the city and 41 mpg on the highway. Opting for the hybrid takes these numbers up to 50 mpg city and 43 mpg highway.
Interior and Technology
The Toyota Corolla 2023 model has a minimalist interior design. As expected, the build quality and the overall feel of the cabin's materials are excellent despite this being a cost-effective vehicle. The headroom and legroom are superb.
The storage capabilities are great as there's a lot of room to store stuff whether you look at the cubby storage or the trunk. The Toyota Corolla sedan 2023 is quite capacious in this regard, but you can still get the hatchback if you want even more space for cargo.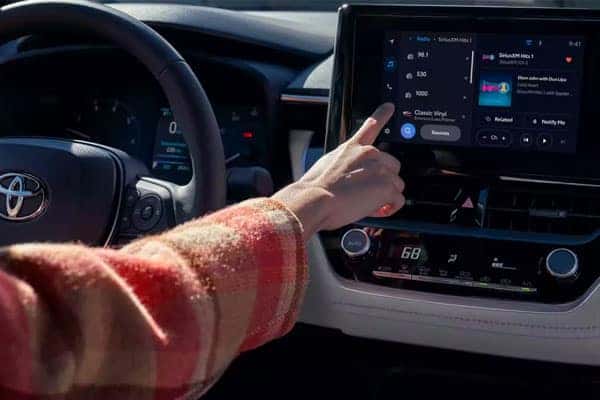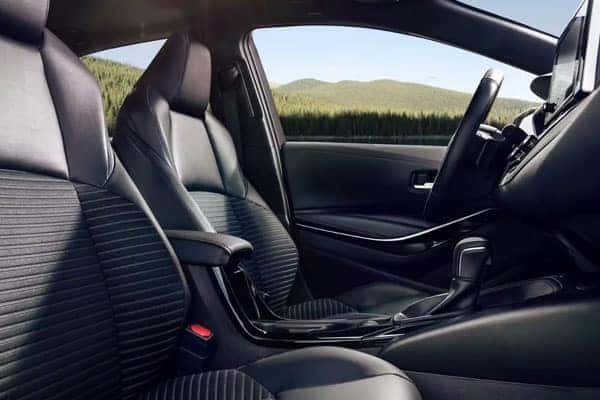 The trim levels for the 2023 Corolla are given below:
2023 Corolla L
2023 Corolla LE
2023 Corolla SE
2023 Corolla APEX SE
2023 Corolla APEX XSE
Exterior and Driving
The new Toyota Corolla 2023 is a looker whether you get the sedan or the hatchback. All of its exterior features are very striking. There are differences between the trims though, in terms of wheel designs, finishes, and sizes (16-18 inches); some trims have unique front grilles, and some have rear spoilers.
The sportier trims – the SE and XSE – have sports suspension, and they hence come with lower ground clearance. These trims also have sport side rocker panels which combine with the aforementioned suspension and spoiler to bring about a more menacing look.
The exterior colors on the 2023 Corolla are:
Super White II
Classic Silver Metallic
Magnetic Gray Metallic
Celestite Gray Metallic
Dark Gray
Ruby Flare Pearl
Emotional Red 3 Metallic
Dark Blue Metallic
Dark Blue Mica
Before deciding on a color, ensure that it is available on your trim level with your dealer.
The car isn't just practical to own, it is also very decent to drive. Testers say that the Toyota Corolla 2023 model is a very agile vehicle to drive. The ride is astoundingly comfortable and there's no noise in the cabin. Even the sportier models won't let you feel any of the blemishes on the road.
As you may have heard, the 2023 Corolla GR will also be making its way to the dealerships soon, and the testers say that it should be a blast to drive.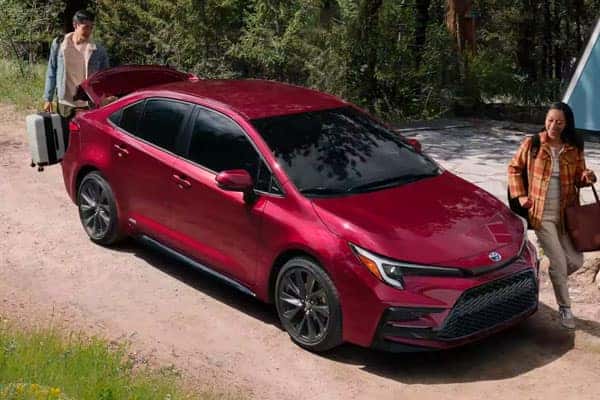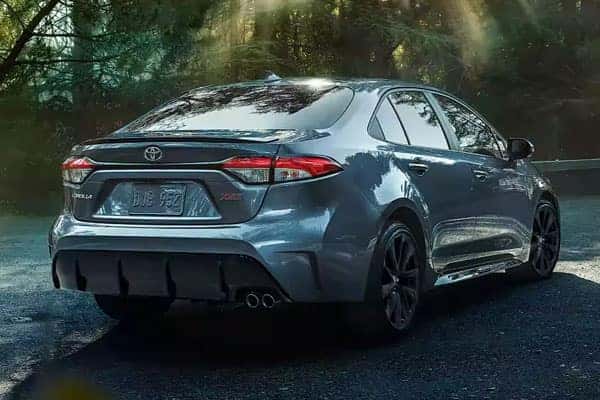 Reliability and Warranty
Consumer Reports hasn't rated this vehicle for predicted reliability yet. JD Power have showered it with praise but they haven't given it a reliability rating yet. However, the 2022 model got an 85 out of 100, which puts it at Great. So, the 2023 Corolla is also expected to be a dependable vehicle.
The two warranties from Toyota are a limited warranty of 3 years/36k miles and a powertrain warranty of 5 years/60k miles. Also, since Toyota has one of the best aftersales in the industry, you get complimentary maintenance for 2 years/25k miles, whichever comes first.
Verdict
The new Toyota Corolla 2023 is a true consumer's vehicle as it isn't just fuel-efficient and full of safety equipment, it also comes with many high-end amenities and isn't dull to drive. It offers a lot of trim levels and so there's a type of Corolla for everybody.
The comfort levels are also great for a compact sedan, and the superior build quality is clearly visible when you sit inside the cabin.
If you want a Toyota Corolla 2023 model in Bountiful, Utah, check out the ones available at Performance Toyota Bountiful here.